Portfolio
In the world of private, confidential and business-critical systems, there are lots of really cool projects we can't tell you about, but it's not a secret that most of them require deep understanding of work automation, heavy duty task processing, cloud environments, email delivery and even AI. We are honoured with trust we have received as there is usually no place for mistakes to be made. Also, many of our clients are Latvia's largest IT companies that outsource the toughest projects to us - the type of projects that we are excited about most.
Here are some projects that we can share with you:
Sony Center B2C shop
Following the successful launch of B2B solution (see below), it was decided that we will proceed with development of their B2C solution too. It was clear that these two should be merged, while we add more new features like automated parcel delivery with DPD couriers, sophisticated product specification and comparison, advanced international VAT calculations, product renting and many more.
While we continue developing new features, we feel confident saying that in the near future, this will be the most feature-rich shop in Latvia as the client will only have to make sure that the warehouses are always full. At the same time, end-users of the webshop describe their experience as "everything is very simple and fast", which happens to be exactly what we aimed for.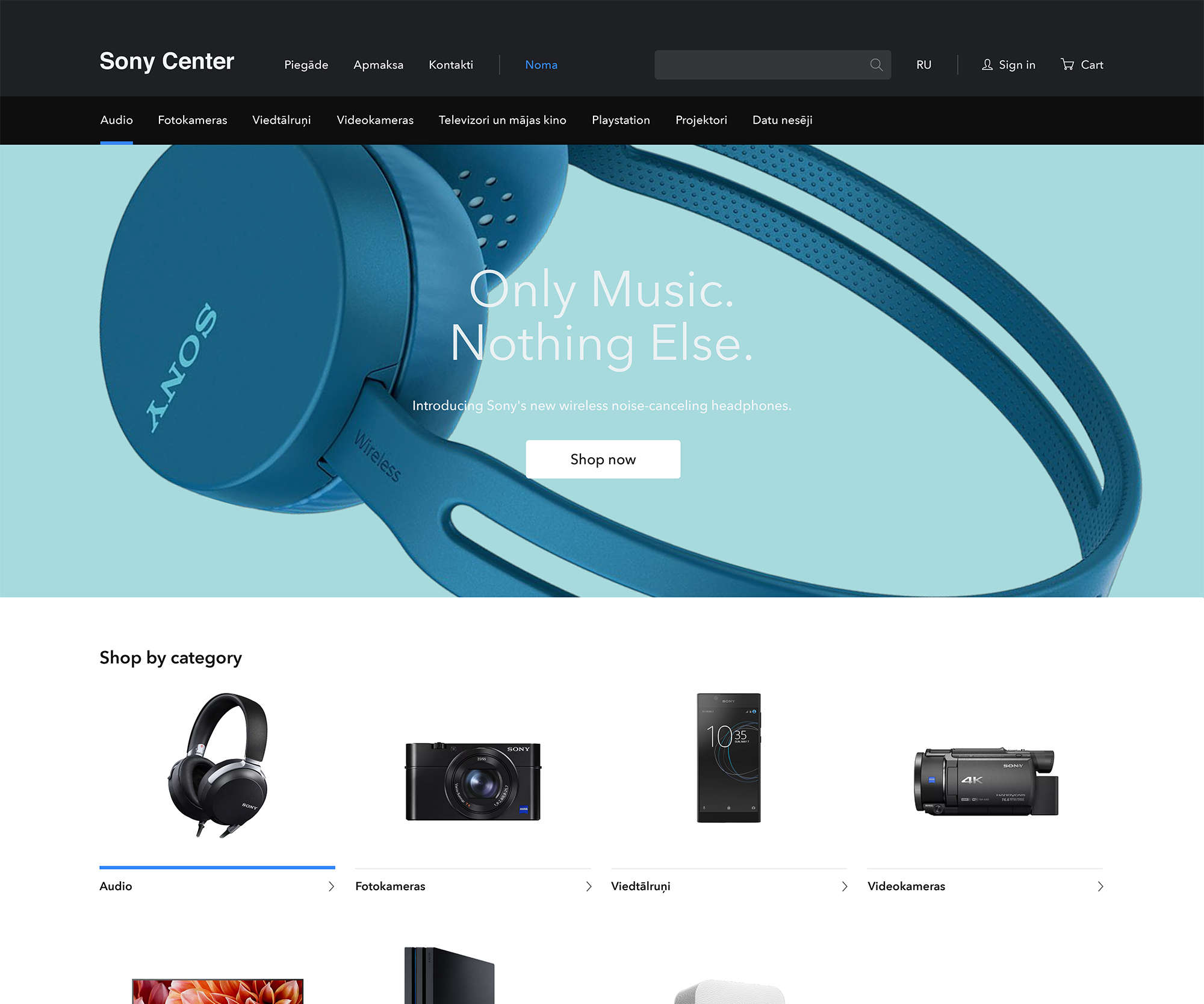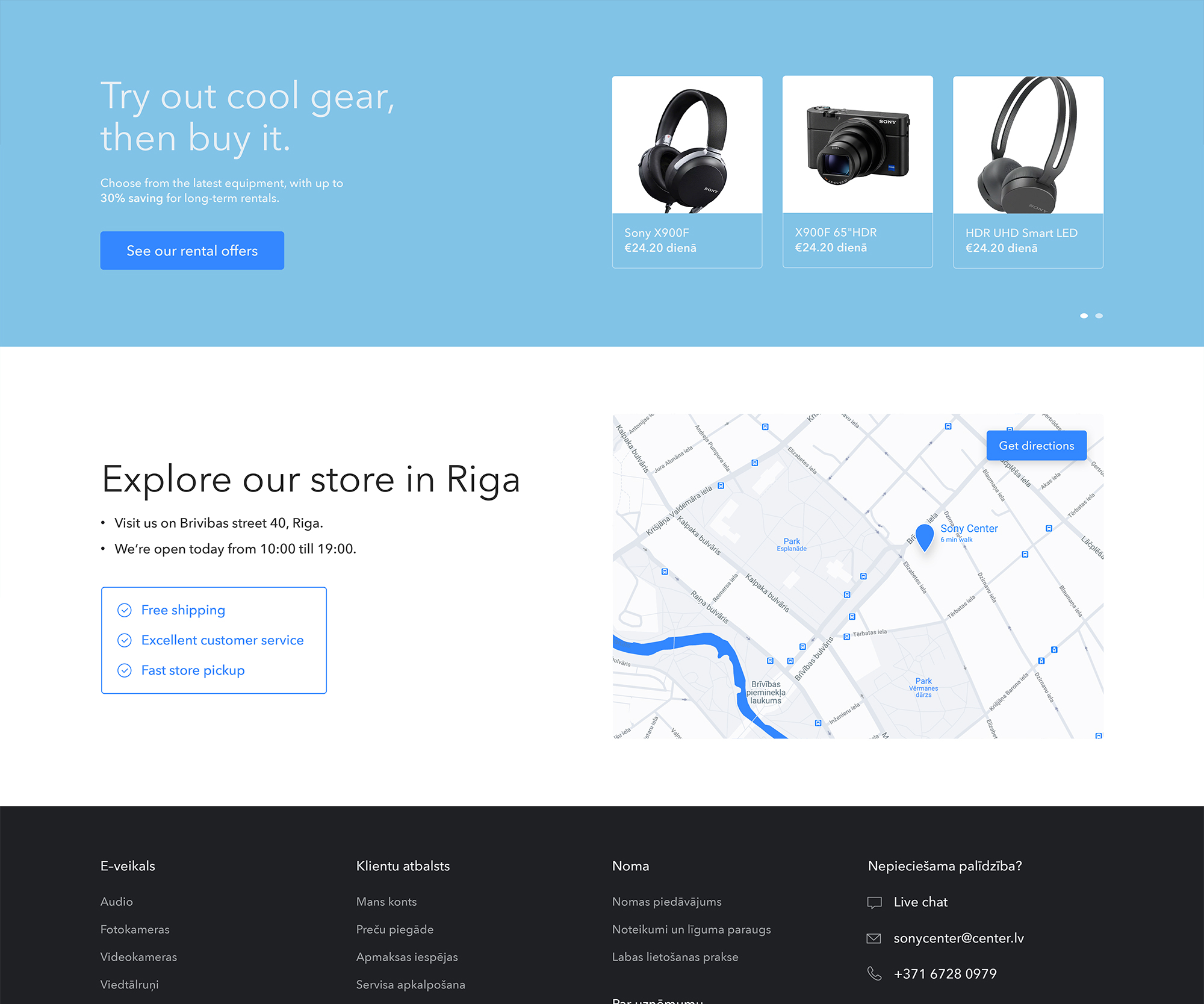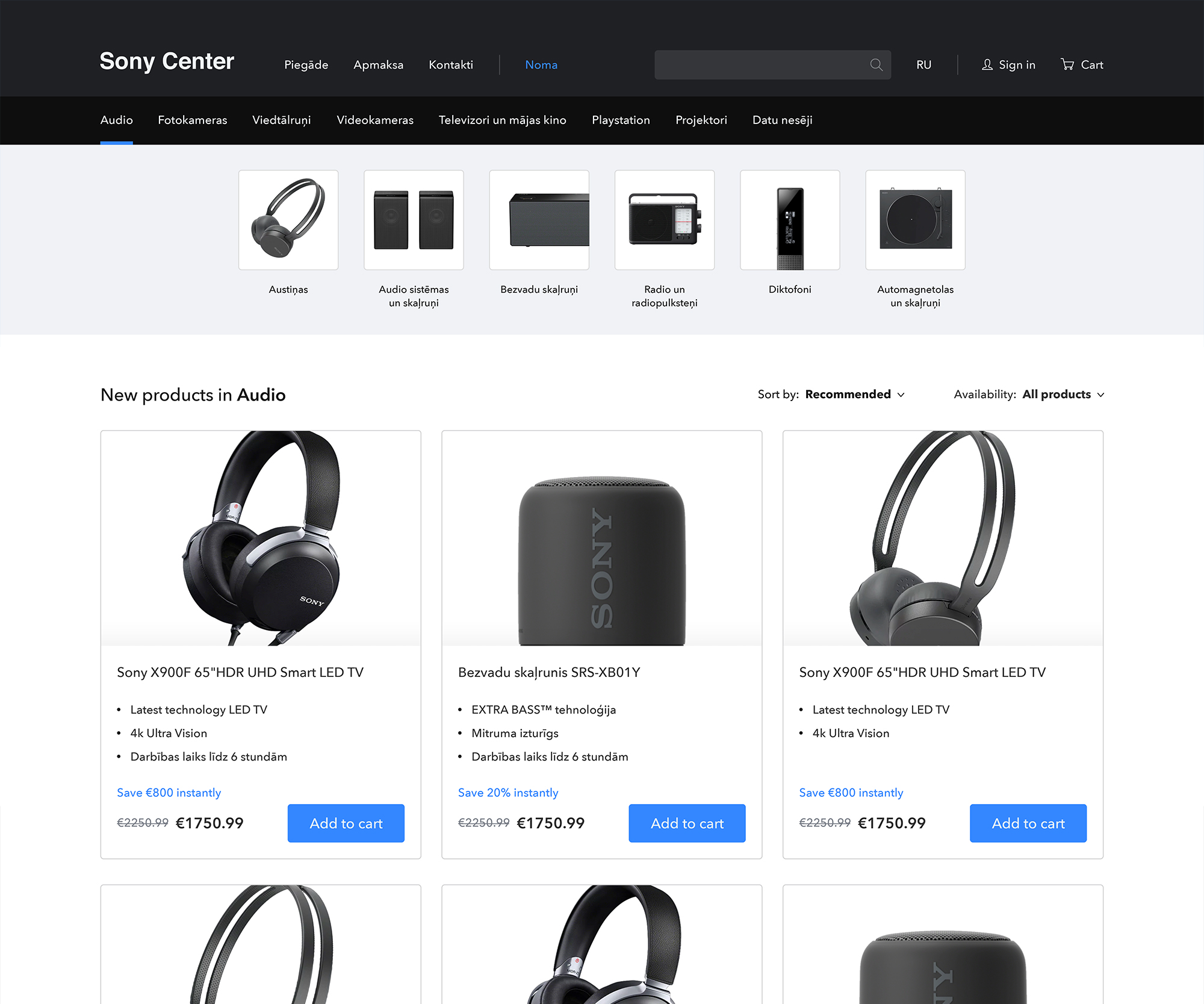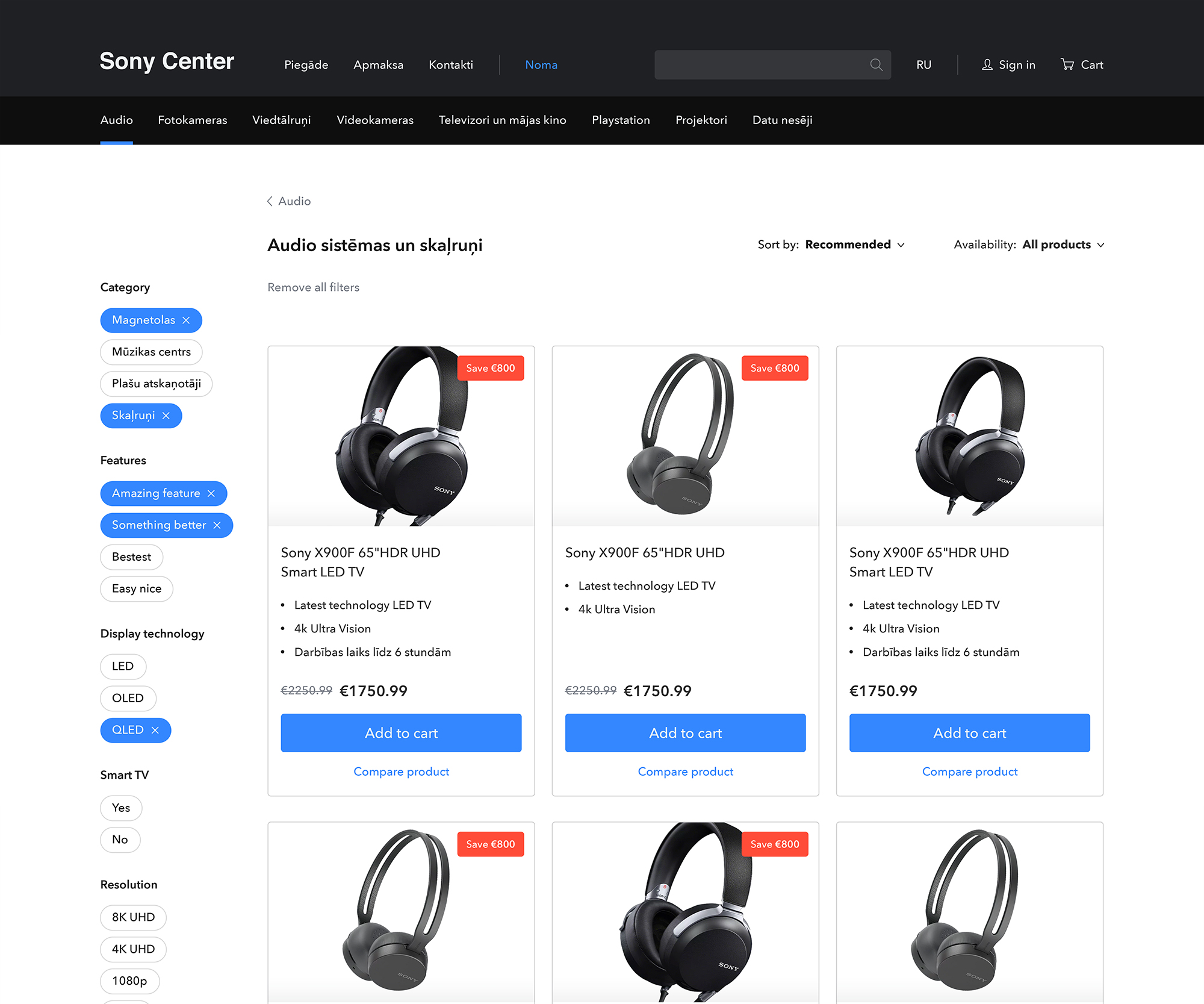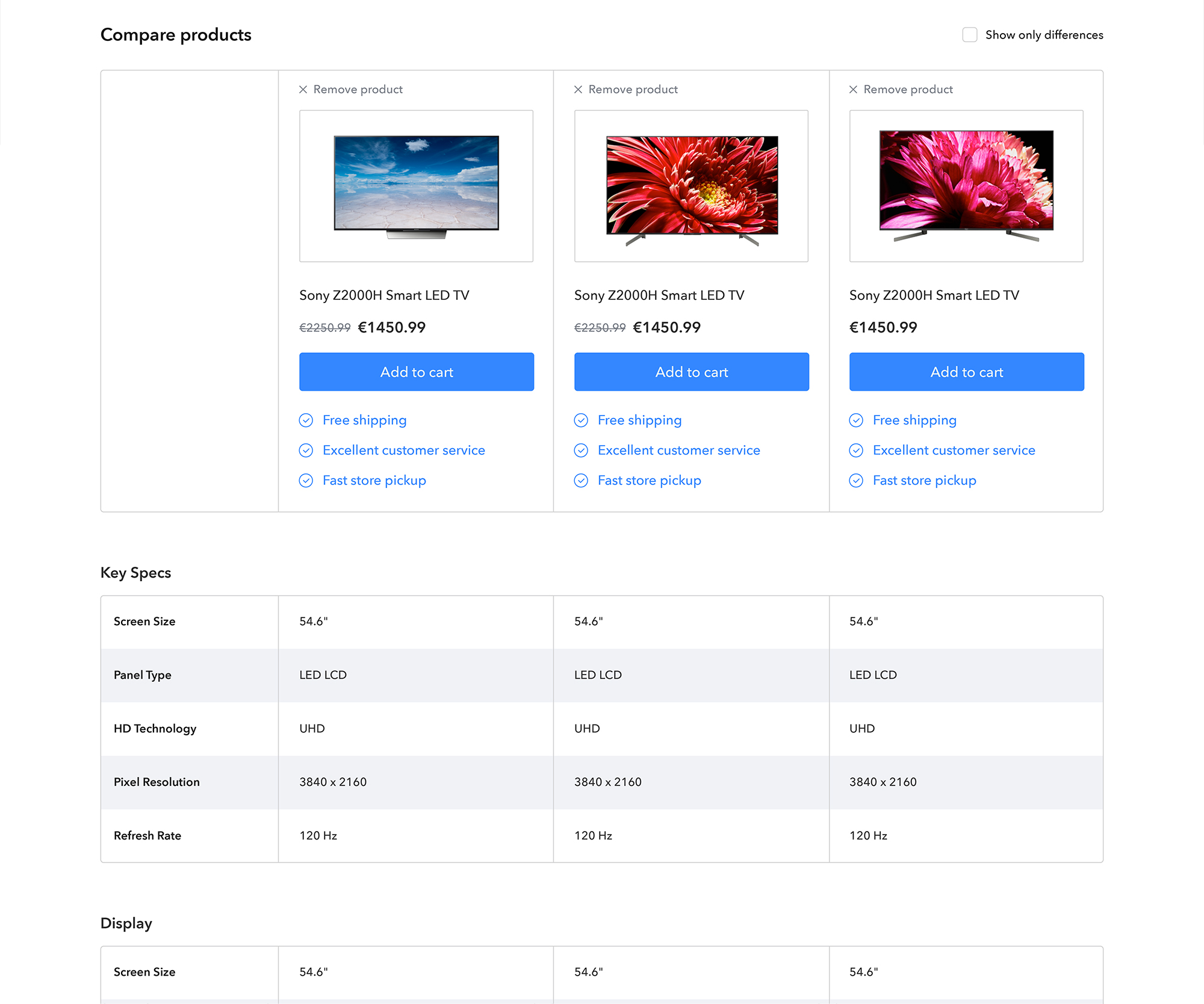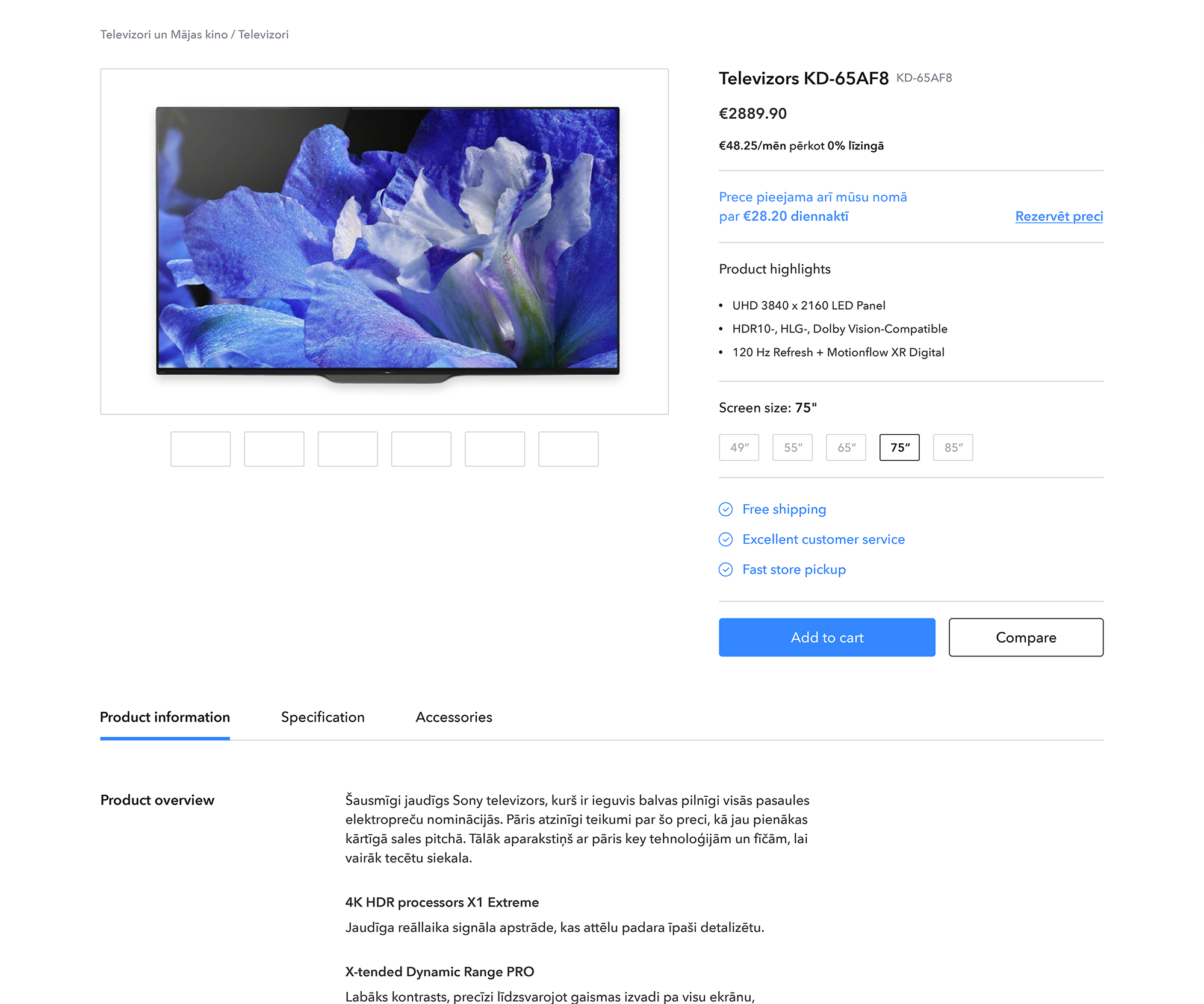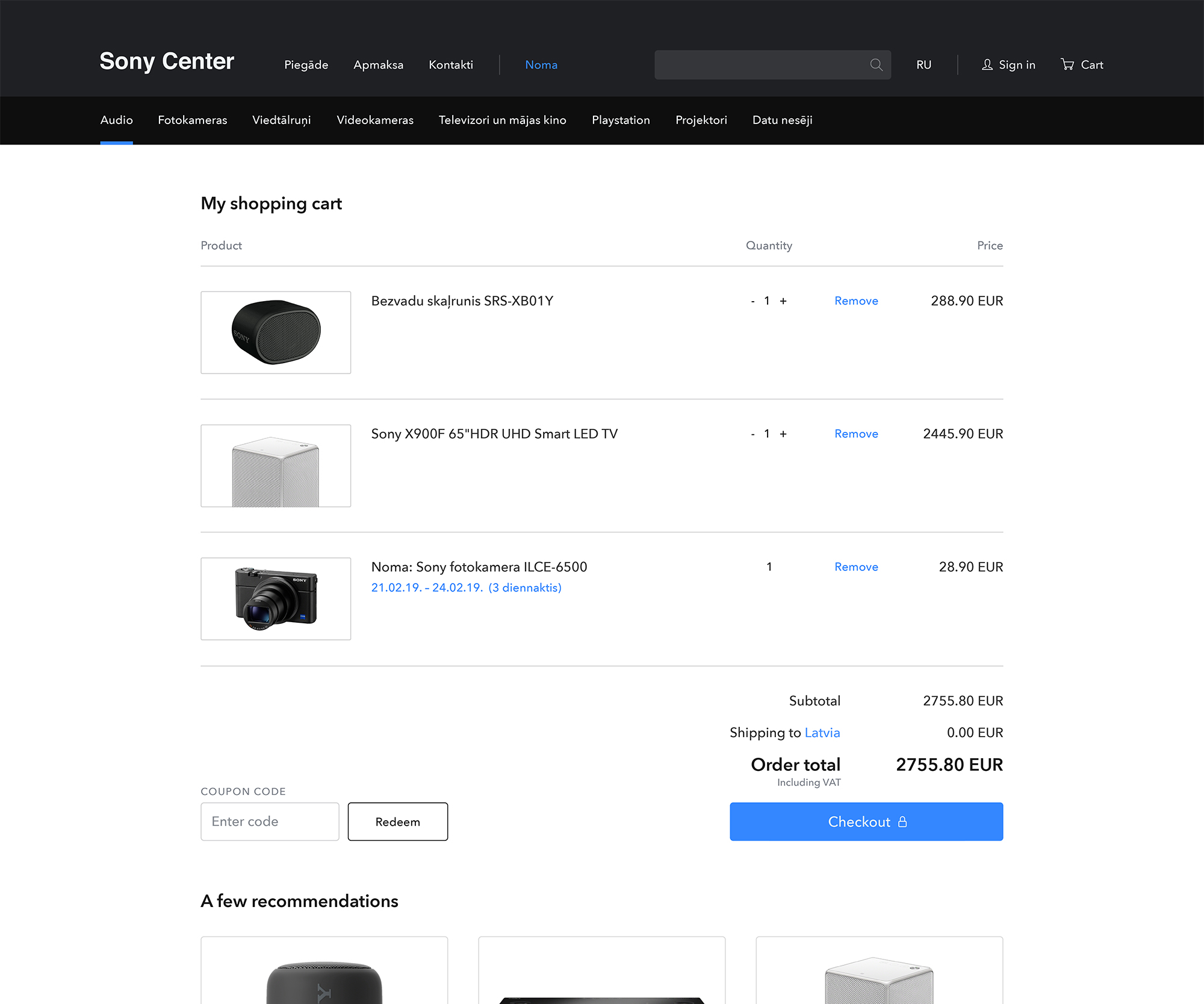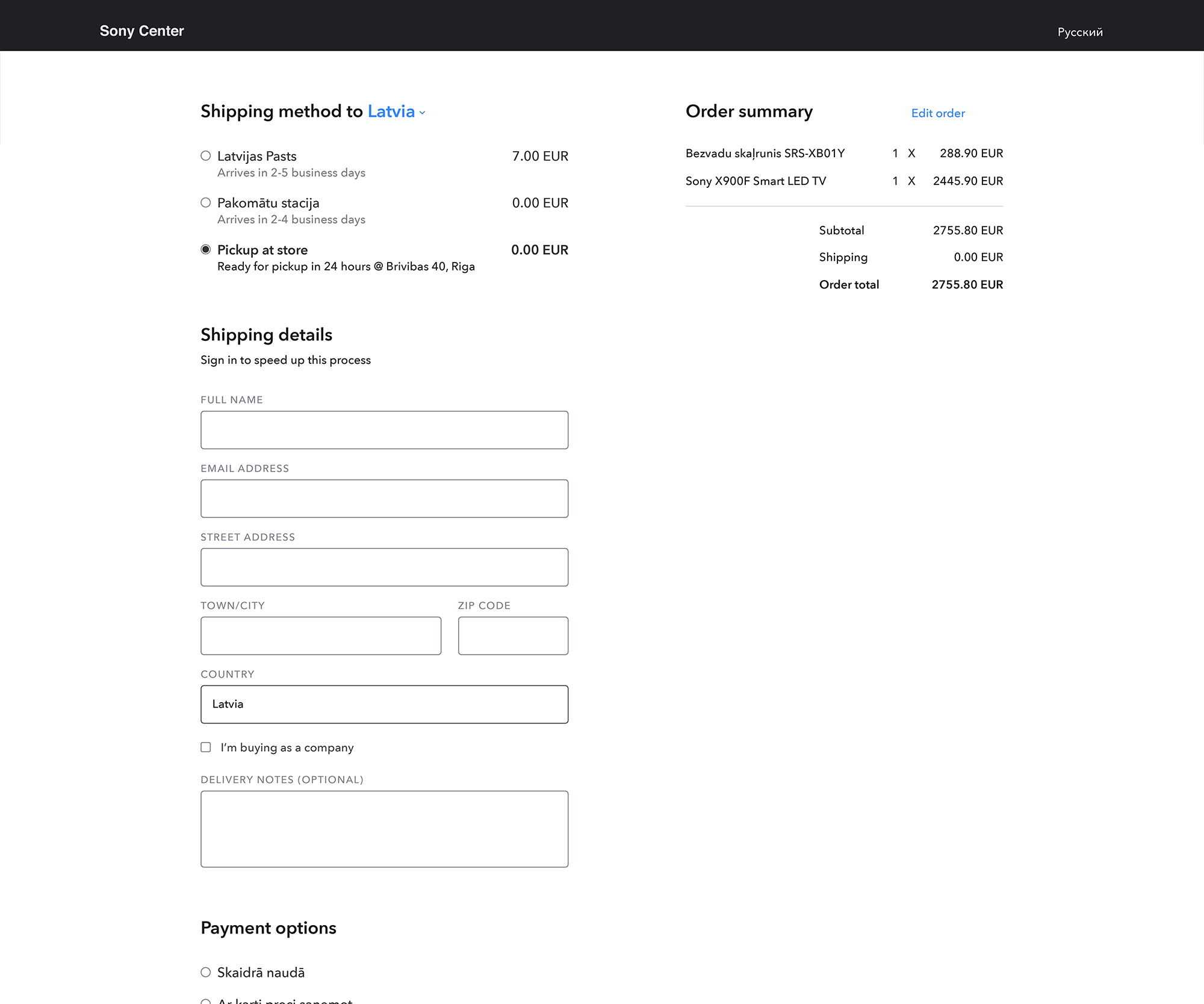 Opportunity
Since the launch of LinkedIn in 2002, it has been the biggest business oriented social network that helps connect employees with employers to do business. But the approach has one flaw - it tries to connect people that already are linked with each other, but it gets really complicated if you need to find someone that you don't know yet!
The co-founders of Opportunity noticed this problem and soon came up with a solution that would connect people based only on their needs and things they can offer. The project went through several changes until the ideal concept was found and as a proof of that the users base started to grow rapidly.
Existing developers had done a great job, but now it was a different game - changes had to be implemented even faster, parts of the code had to be rewritten as server could not cope with the load, security had to be top-notch, a mobile app for Android and Apple was needed and a lot more.
At this point we were recommended as the best addition to the existing developer team and have been working closely together with their central office in Florida, US for the last few years reaching crazy milestones ever since. Opportunity now operates in around 200 countries with tens of millions of registered users and have made more than a billion connections for their users this far.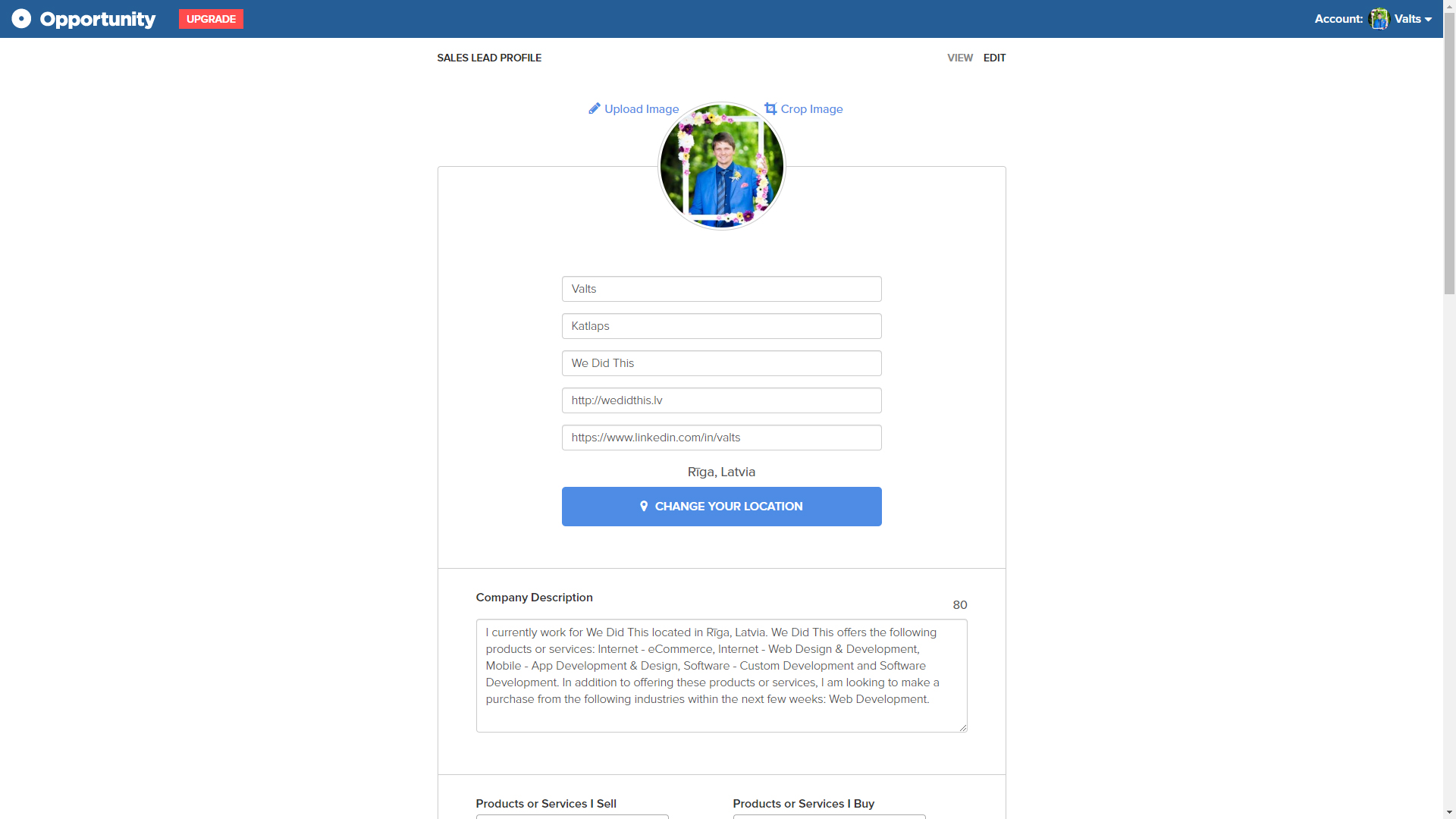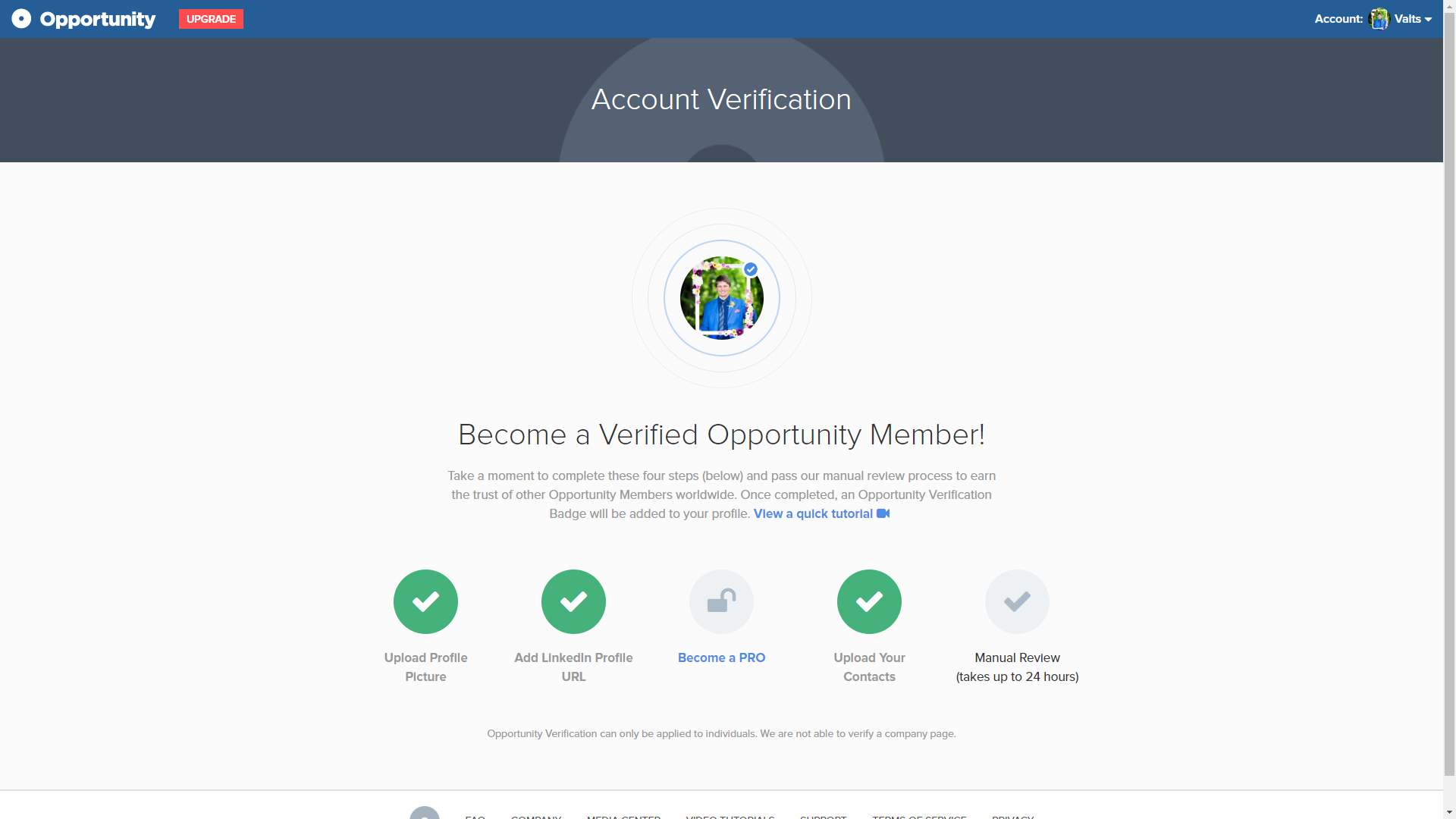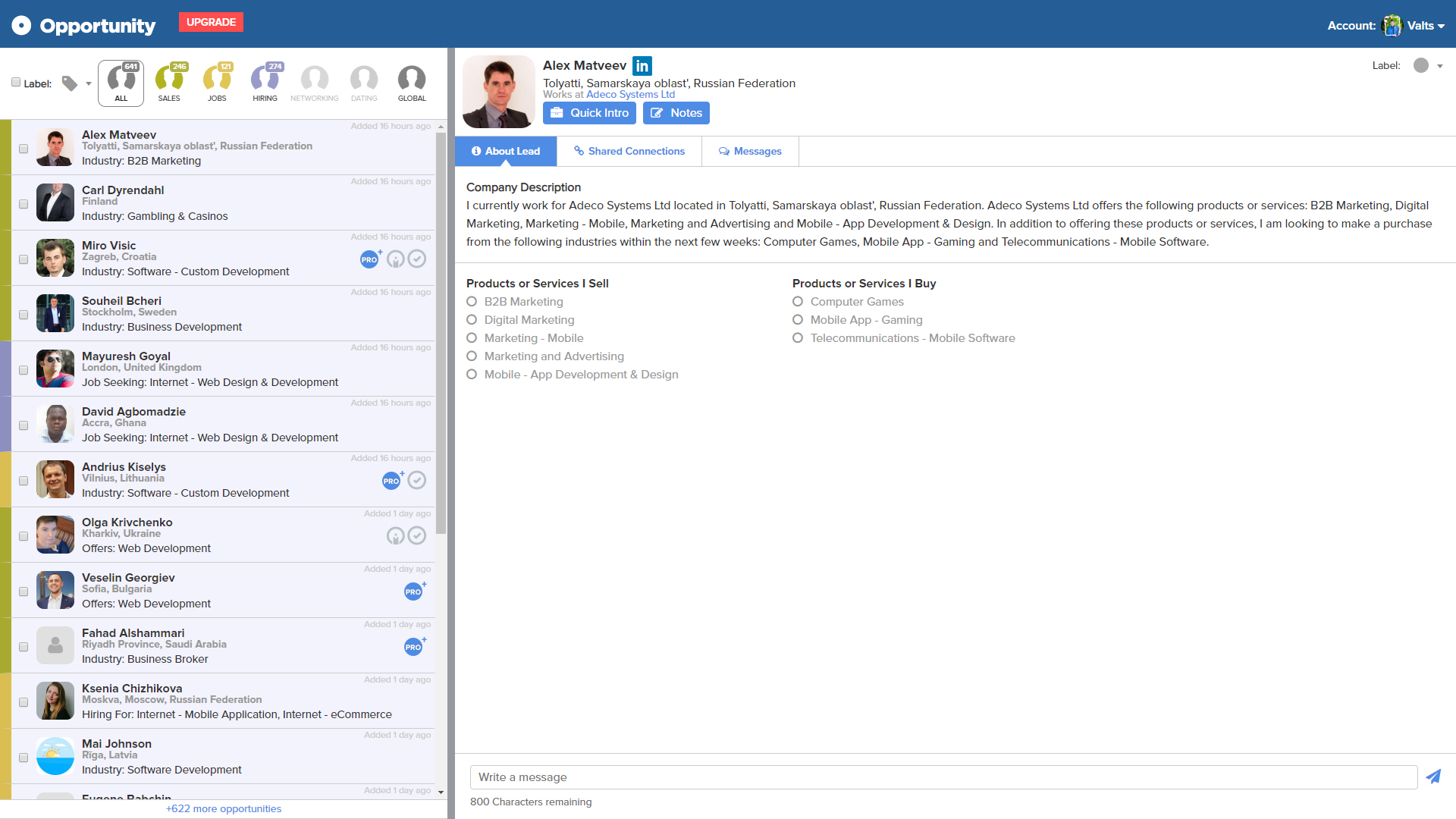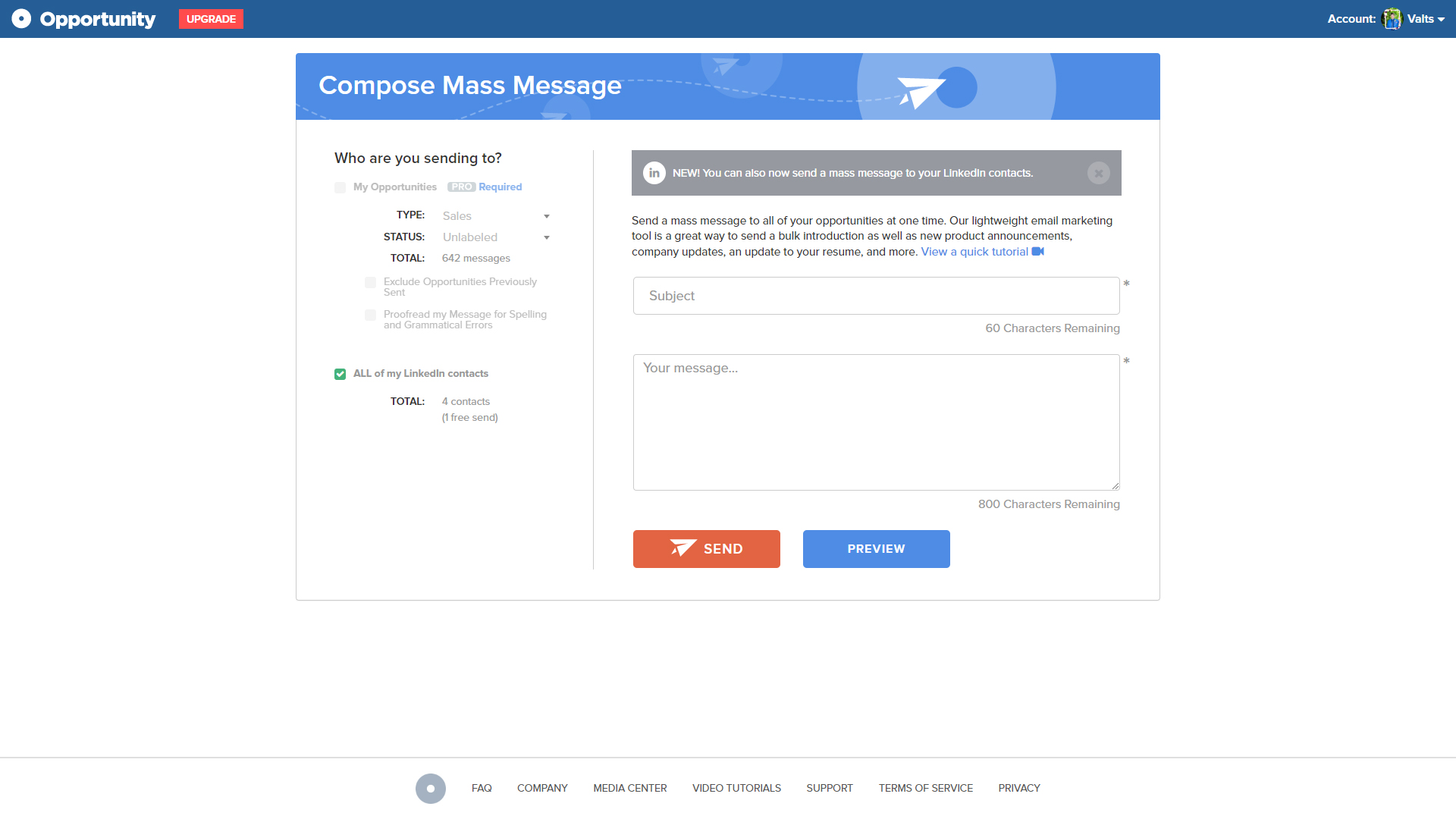 Sony Center B2B shop
When you sell something to other shops, your website becomes a whole different story. Your clients already know everything about your products, there is no need for classic advertising, everything must be easy to find and the whole ordering process should only take a few seconds - ideally, using nothing else but an API so this process could be automated with any systems clients are using.
As usual, behind-the-scenes there's so much more magic than you could possibly imagine. Reservations, pre-orders, competition monitoring, 2 factor authorization, price lists,... Also, everything has to be synchronized with Horizon accounting software.
At the end we knew we did a great job as our client described the new system as "It's like switching from a Lada to Mercedes!". They didn't disclose the model, but we suspect S-class.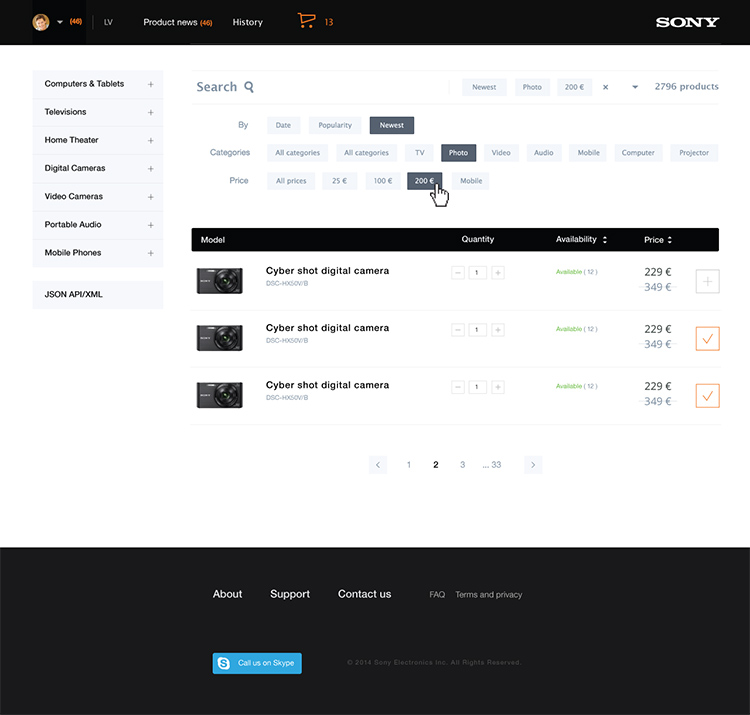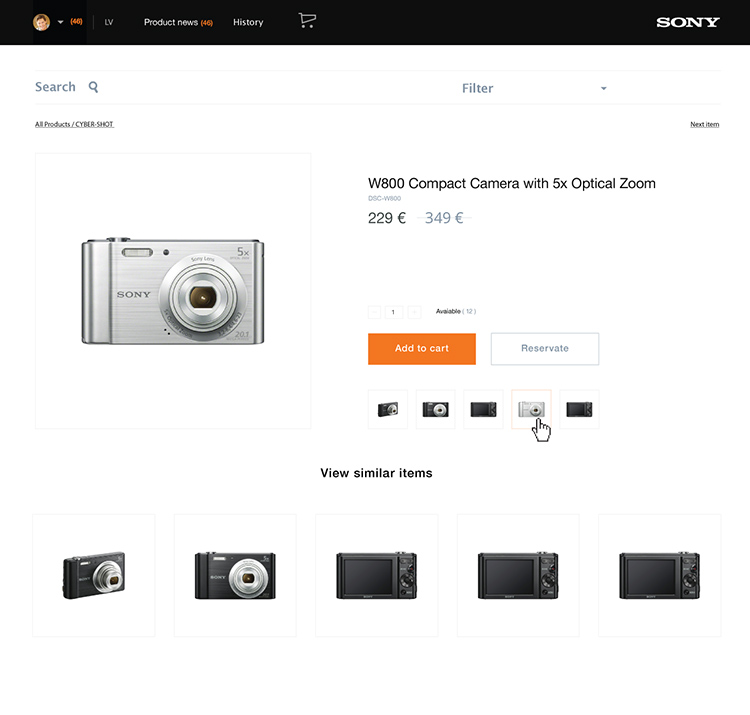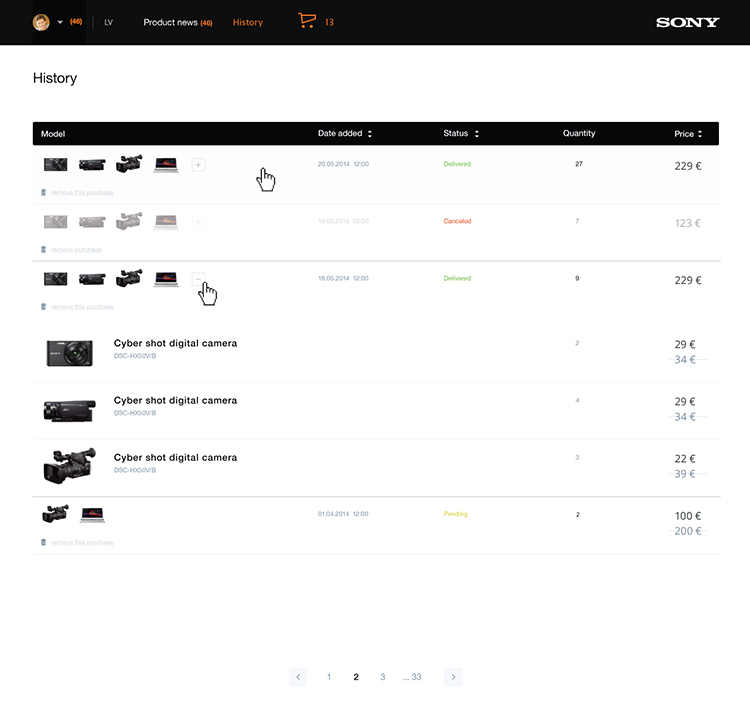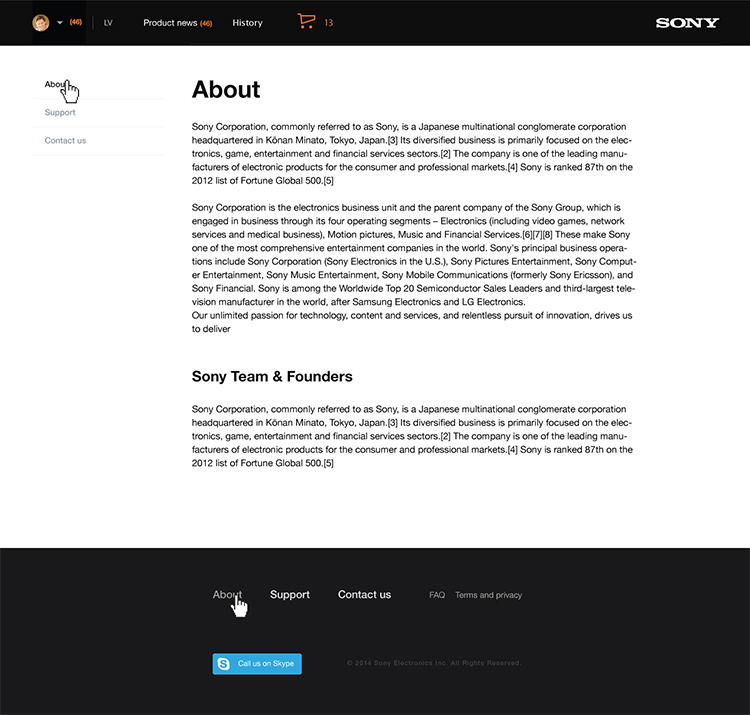 Market AI
To be most successful in stock and crypto markets, you have to be online 24/7, notice every smallest hint or news trend by making millions of calculations each second and act in milliseconds before everyone else does. The only realistic option is to deploy a network of servers all around the world that is controlled by a custom AI that will act instantly based on all kinds of difficult instructions, huge amounts of precise calculations and it's own previous experience. Sounds a bit like an intro of a horror movie, right?
Basically - we did just that! At first, most of the set requirements did not make any sense to us, but it has been a steep learning curve and it's now safe to say that, for us, this has been one of the hardest and one of the most exciting projects of all time - great news for us as it seems that the list of features to develop will never run empty.
The software is now smart enough to keep making money even when left unattended and we are amazed each day by the decisions it is making even though we wrote every line of the code. Not using this software while investing now feels like a guessing game that is doomed to fail. This must be the future!
Krassky
In the world of top-notch design, every smallest detail must be well thought and custom made with no compromises. So it's only natural that the web site that represents worlds best interior designers is on the same level. Because of this, we were highly honored to be approached as the best team that could make such a project!
The toughest part was to figure out how we could make a product catalog that would be fully customizable and not require any help from us at the same time so any change could be made in a matter of seconds. This was not easy as catalog sections can have different structures, layouts or order of the content.
After the successful launch of the web site for Latvia, it was also decided to re-use the same software for Russian and international web pages, but this would mean that our client would have to work with three times as much content as all sites have similar (but not identical) data in multiple languages so we came up with an idea to re-use the same exact web page, but teach it to know what content should be shown depending on the domain that was used and language selected. This way our client could continue to use the same CMS and save a lot of time by just specifying countries for which the specified content is intended.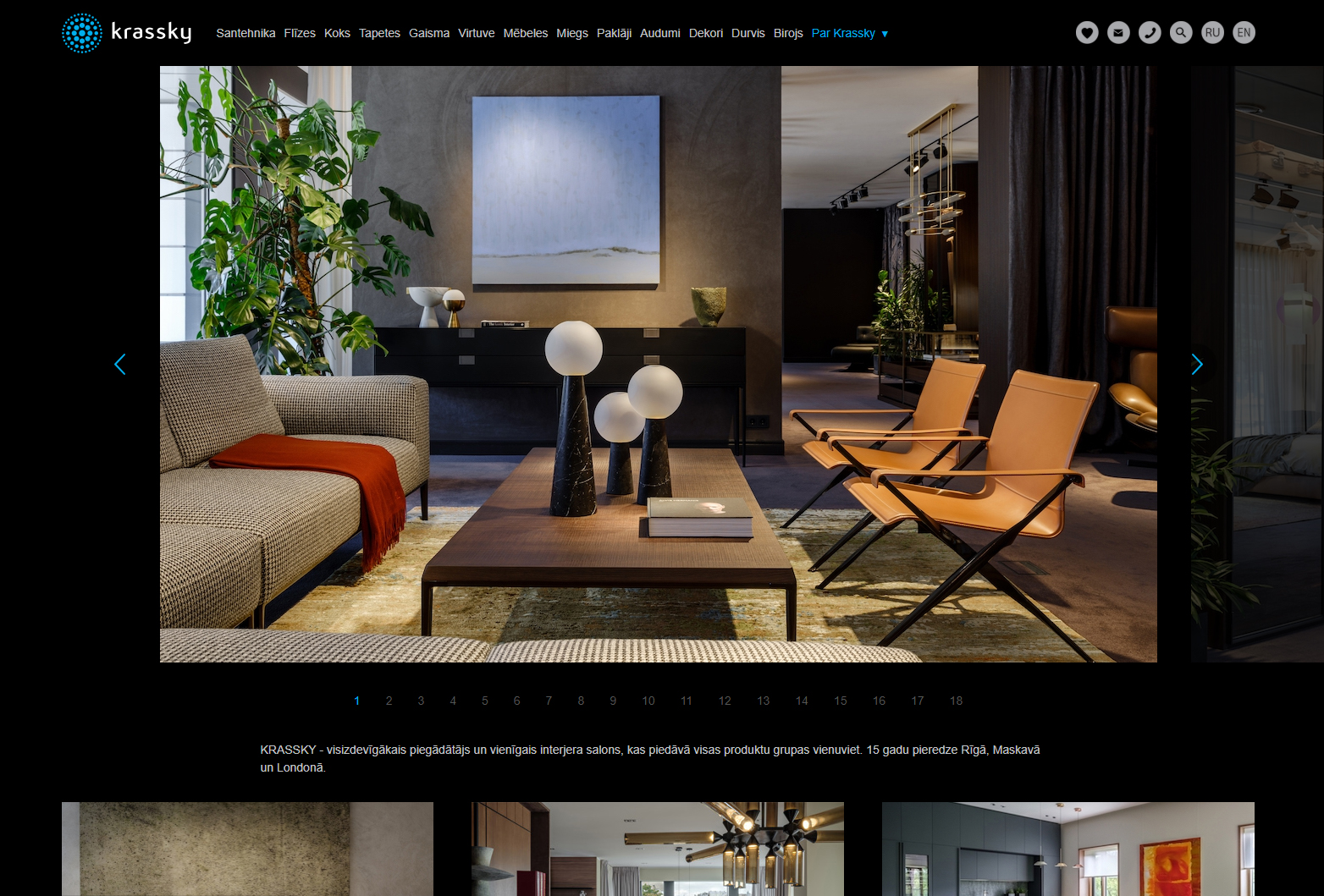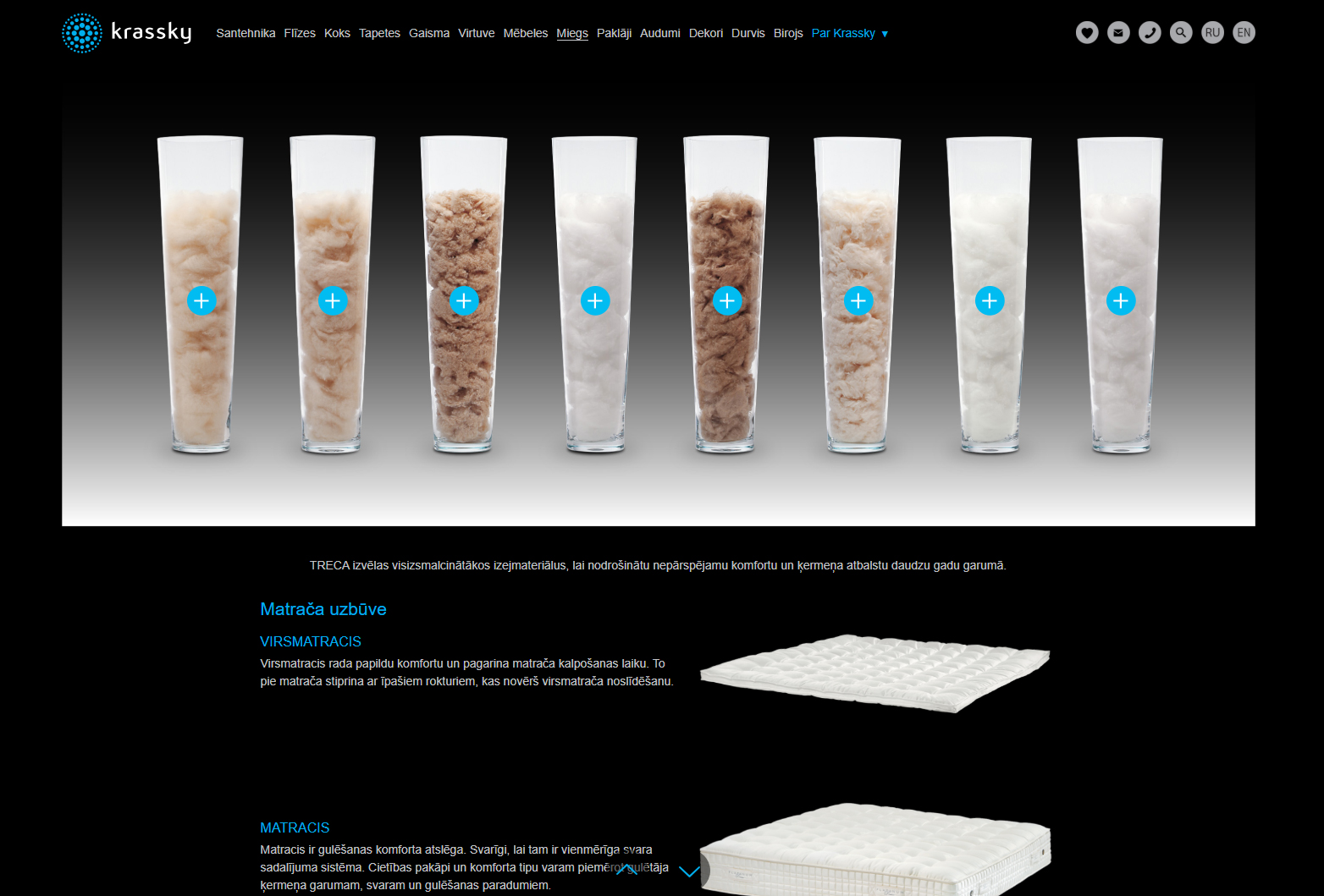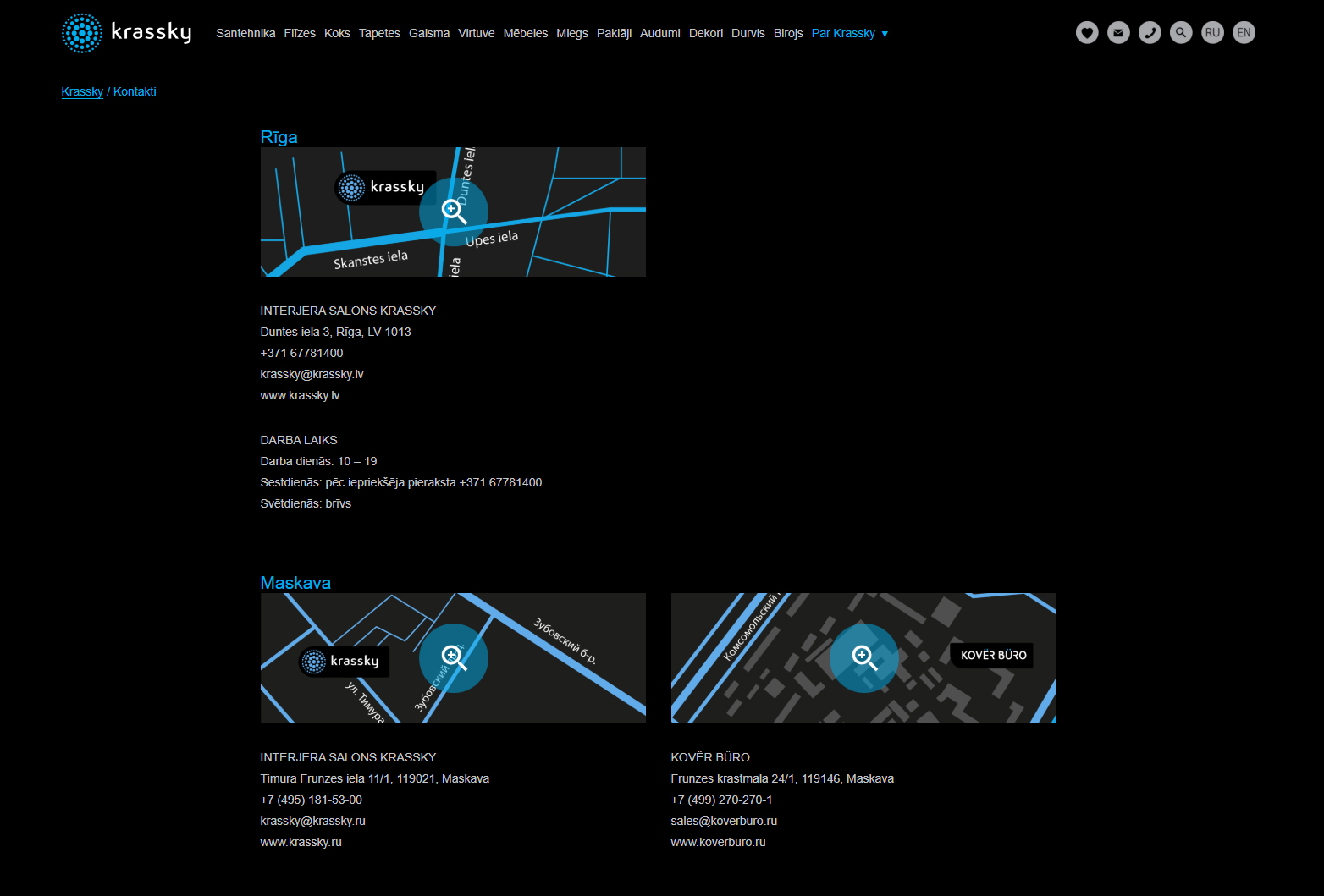 PINS
When the airBaltic international loyalty program expands, changes its name and does it with tight deadlines, we can help. Having joined the project only a couple of weeks before delivery, we developed the responsive version of PINS website, as well as full functionality of separate sections of the portal, providing the client with timely, professional communication and possibility to publish the project according to the initial time plan.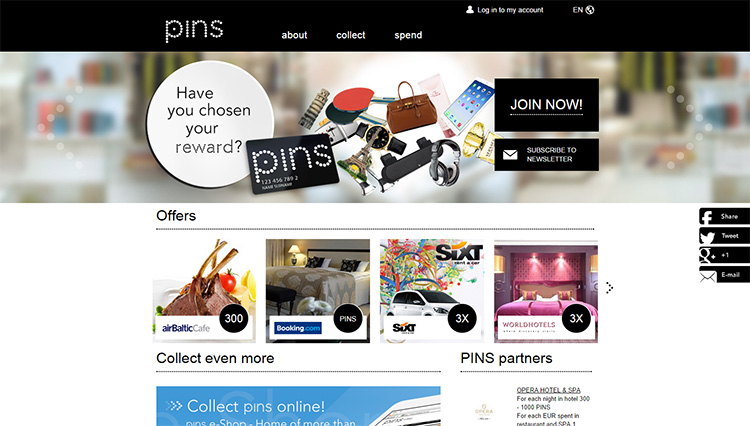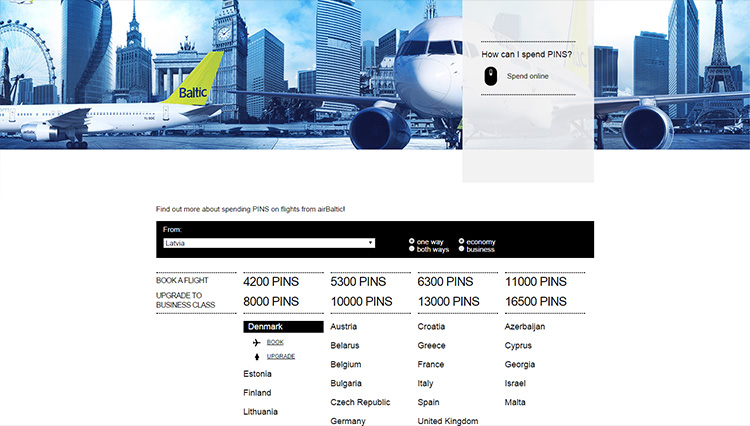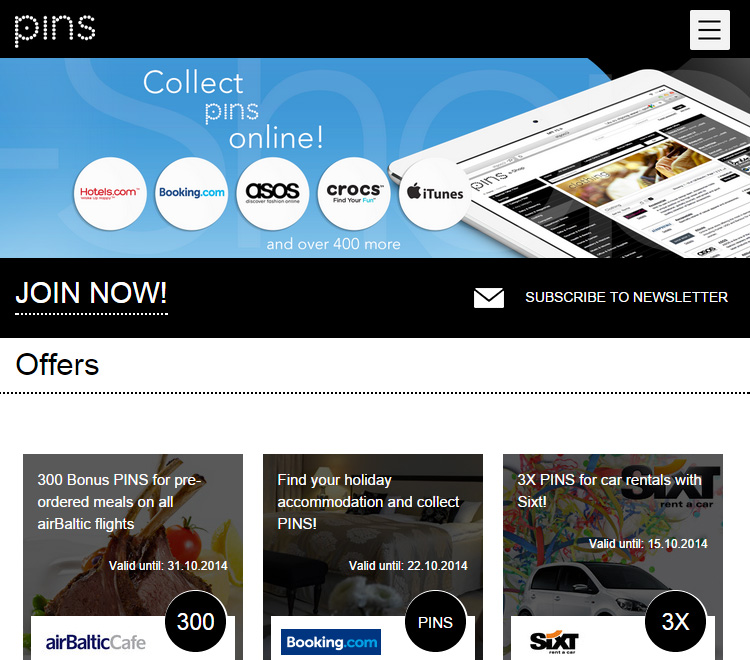 FMS & Horizon
Huge companies usually have a lot to tell. So did FMS (Financial Management Solutions) that needed a new, easy to perceive web page for themselves and for Horizon, their main product. Together with designers from HungryLab we developed a visually simple yet very intelligent web page that could organize any kind of information.
The site is also integrated with lots of FMS services for authorized clients/partners and public section to get up and running with their software as fast as possible.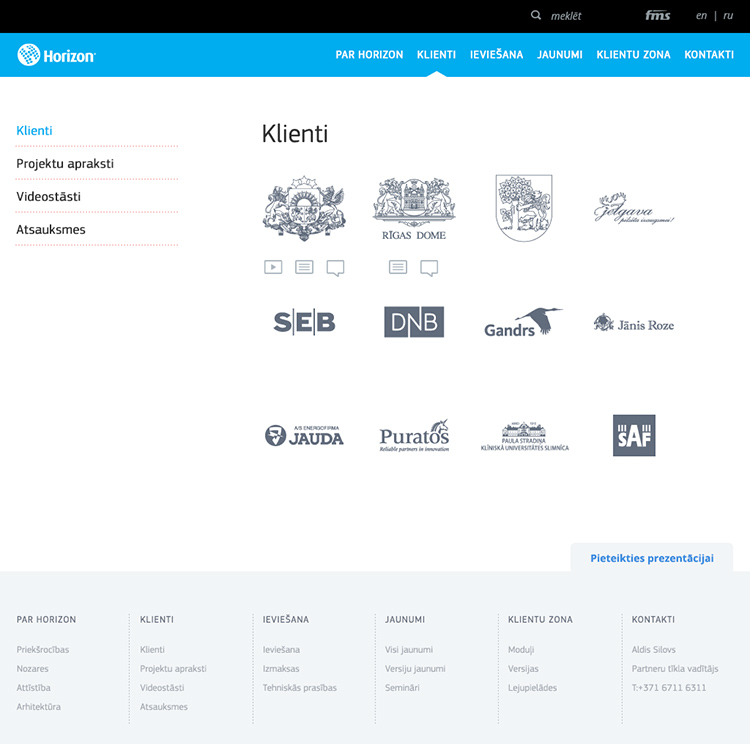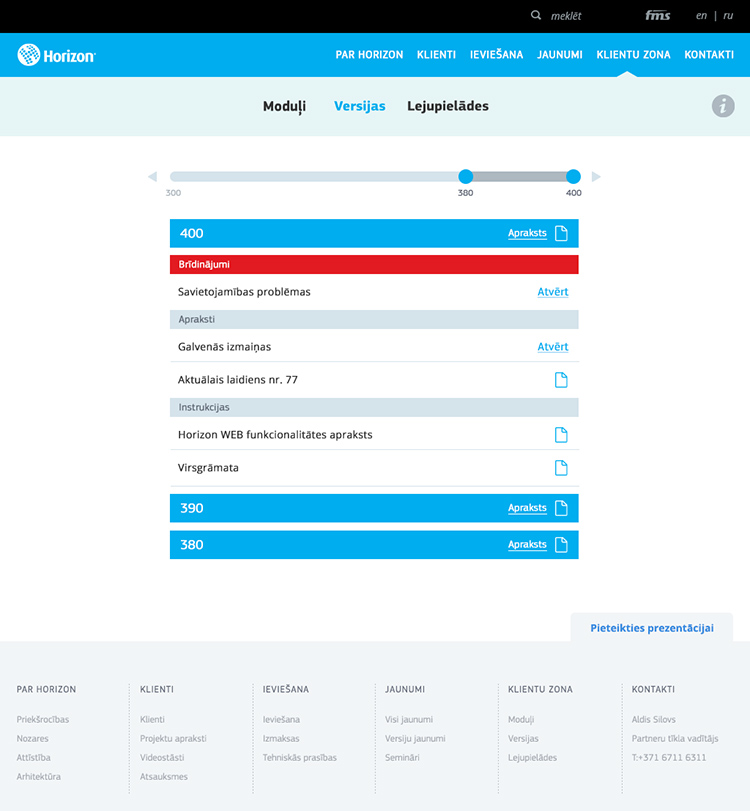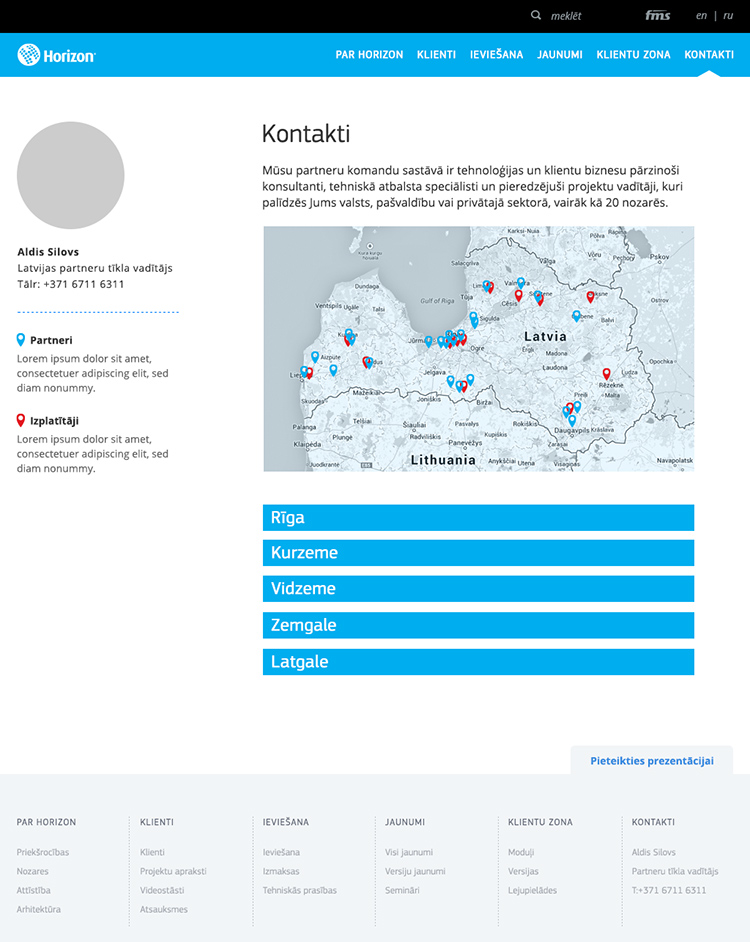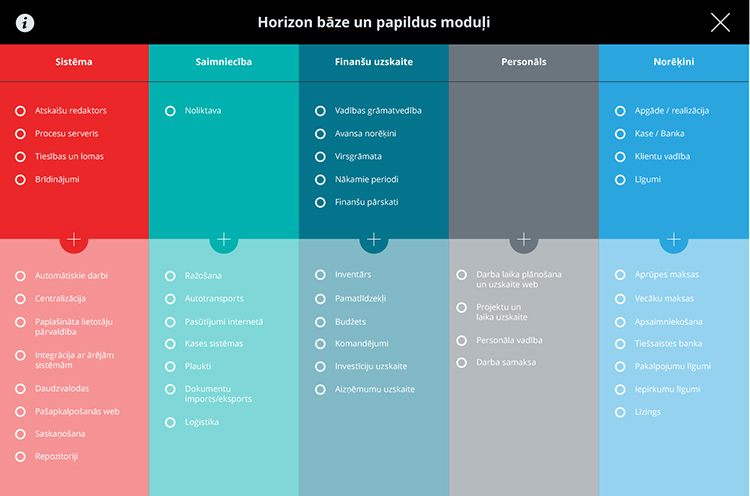 eGuest
In big companies various traditions emerge over time. Quite frequently, IT systems become just that - traditions, which are hard to part with. This project brought us a huge challenge and joy while tackling it together with professional customer representatives. We built a centralized pass system which meets the requirements of this century. It is being used by a company with more than 5'000 employees on a daily basis, carrying different roles and being situated in different locations, by controlling physical access within more than 50 buildings of the company.
The task to automate the transfer of data accumulated over 5 years was especially interesting, ultimately providing the client with a smooth transition between the old and new systems without risking a loss of confidential information.
Lauma
When lingerie hits the spotlight, technology moves behind curtains. The simple design accentuates photos and allows customers to pay attention to the most important thing - products. The products are also the main priority to our client, so for several years we have taken care adding new collections to the website.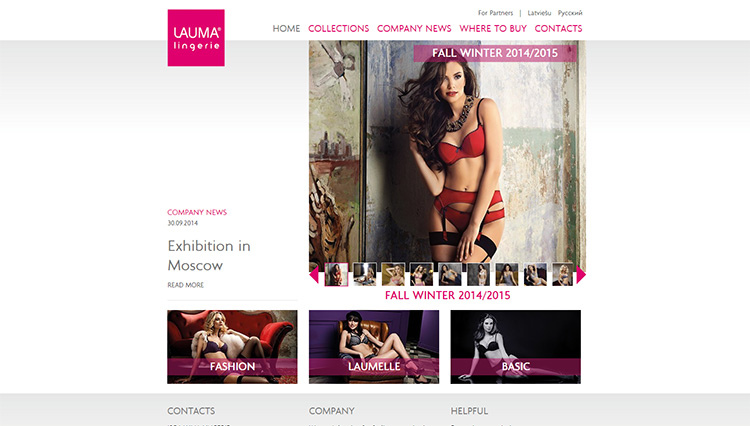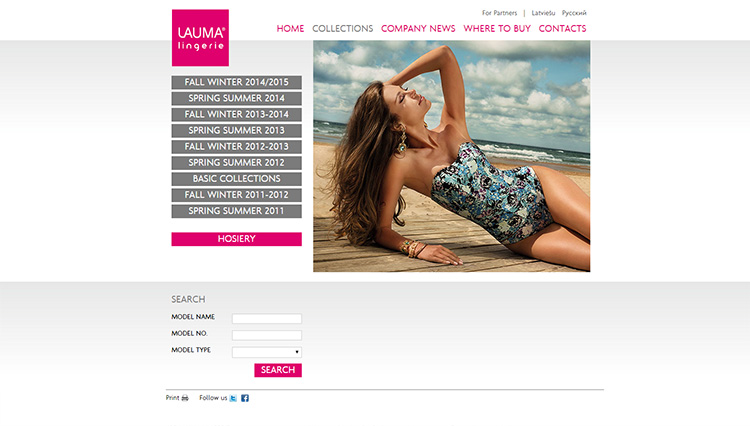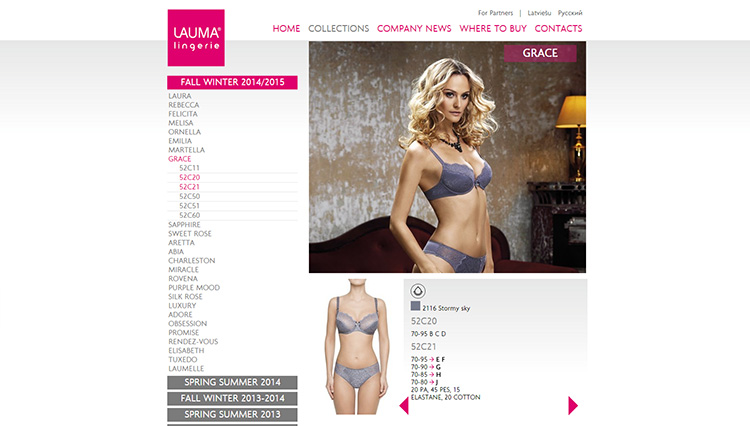 Business Gene
When initially approached by Guilty to provide a quote for development of a website with facial recognition on pictures taken with web cameras, then automatically photoshopping them on a preset torso templates and having a responsive 3D animation of DNA spiral at the background, all without using video AND everything working seamlessly even on mobile devices, we were not entirely sure if it is even possible to pull off. Having put the hesitation aside, we ended up with a brilliant solution, first of its kind in Latvia.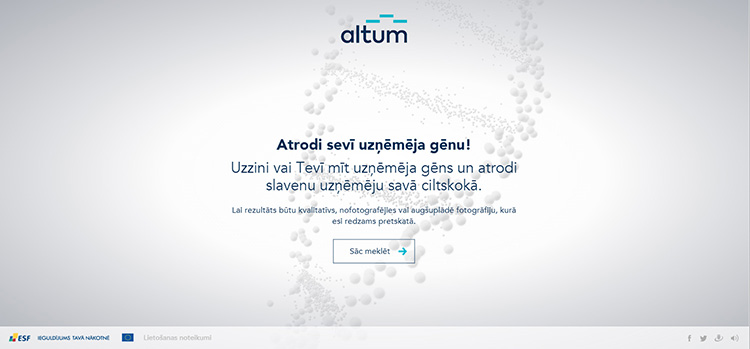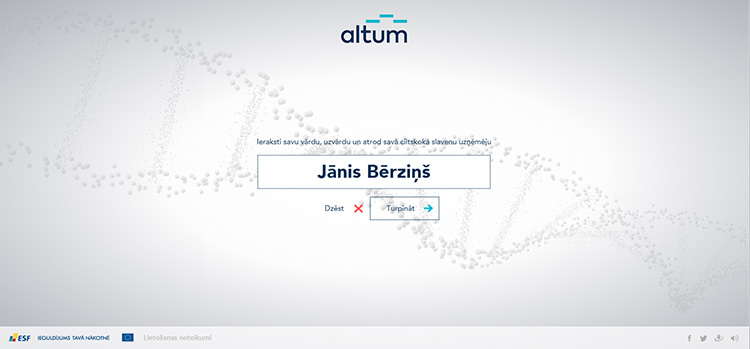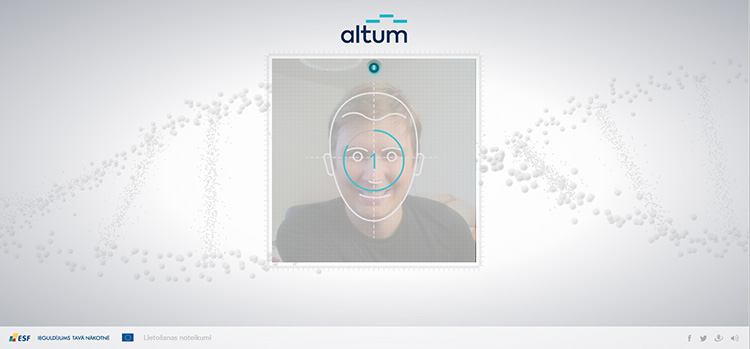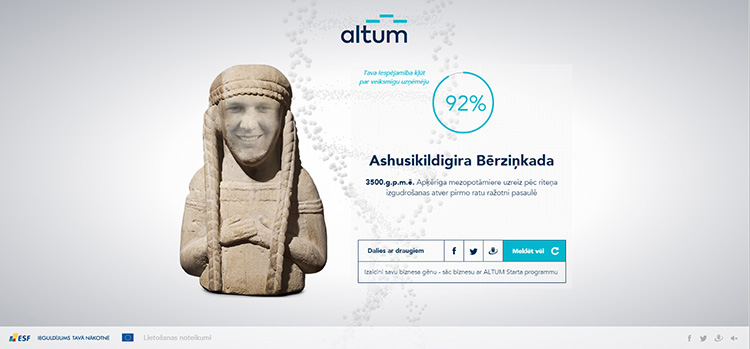 FundETA
Big companies (especially in the US) take up to three months to pay their bills. And it makes sense as money makes money on a calculable rate. The only thing smaller companies that cannot afford to wait can do is offer a slight discount so it would be profitable for the big one to pay faster (usually 2% per month), but this kind of negotiation takes time so we made an internal App for QuickBooks (US biggest accounting software for small-to-medium sized companies) that helps to automate this kind of negotiation and process all invoices according to specific agreement.
Vells
Vells is an enormous open-air climbing construction that challenges your inner fears to an extent you never thought possible. We decided to challenge our own inner fears in a different way by getting on the project just a week prior to their Big Launch. Our approach to create a simple yet powerful single-page website with elegant parallax scrolling animation effects turned out to be a huge success!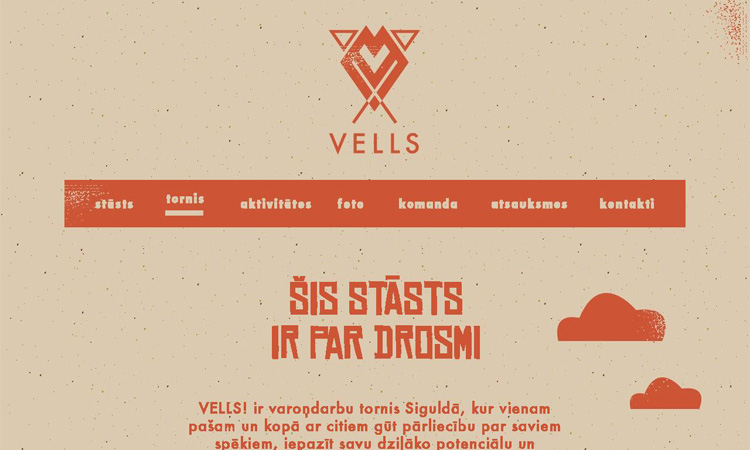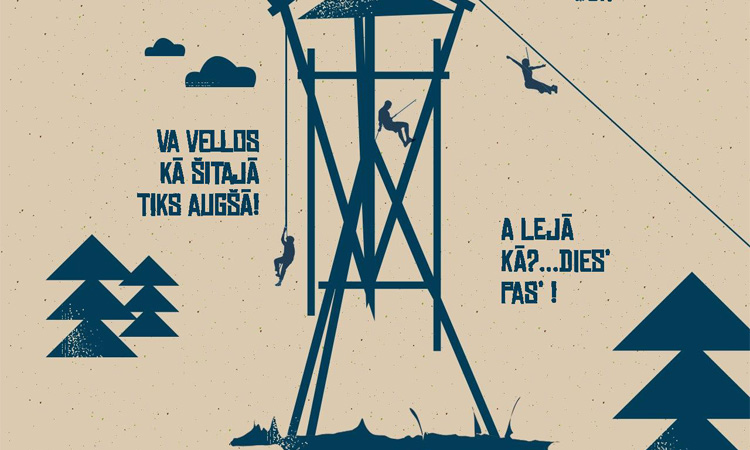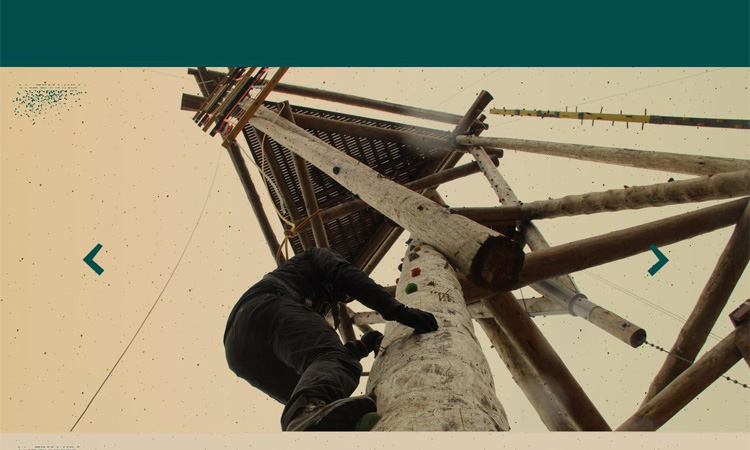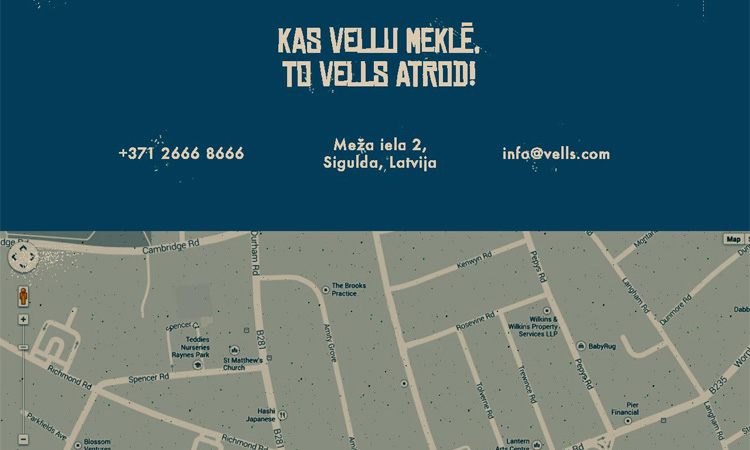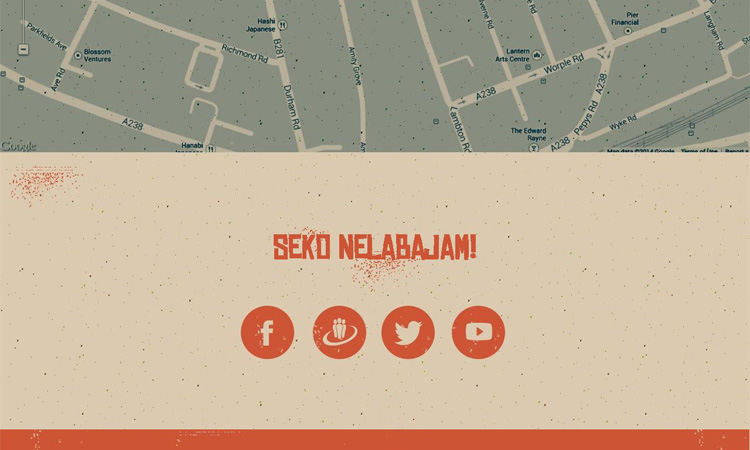 Paēd
What now seems like a casual thing, seemed like a futuristic dream when we started to develop Latvia's first e-shop for food back in 2009. The client base grew fast and the fact that the web site was done just right, for sure helped the company successfully operate in the field and provide same-day home delivery.
Konkursi
While working on a separate large scale project, we needed to test the performance of a new noSQL RAM database solution created by our friends at ClusterPoint. What initially was just a test turned out to be a social application that allows companies to create contests in the social networks draugiem.lv and Facebook, and their followers to participate in them by uploading pictures or videos. The app took off in an instant and was used by more than half a million registered users generating 2 million page views per month only a year later.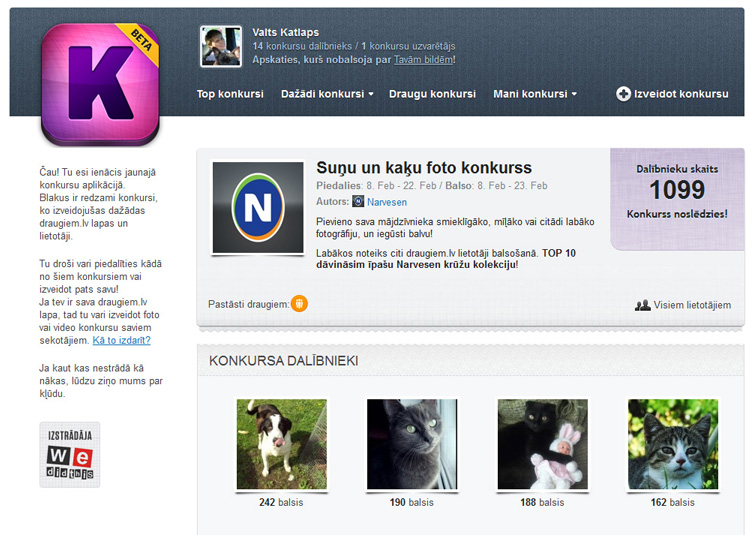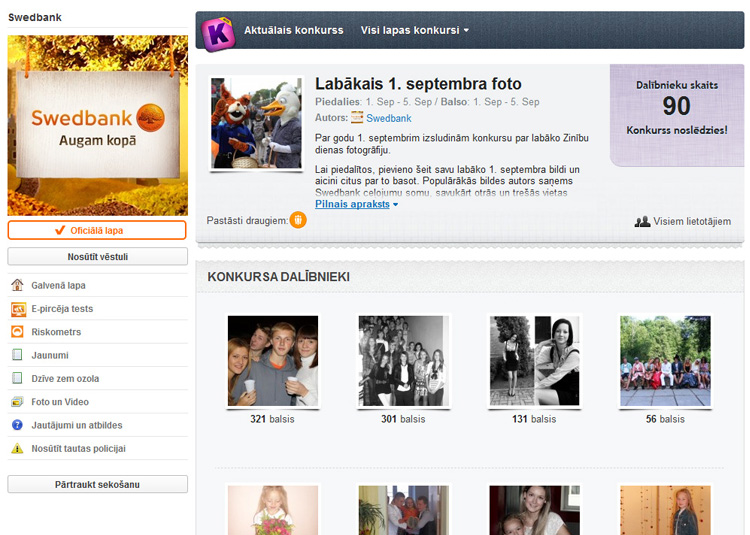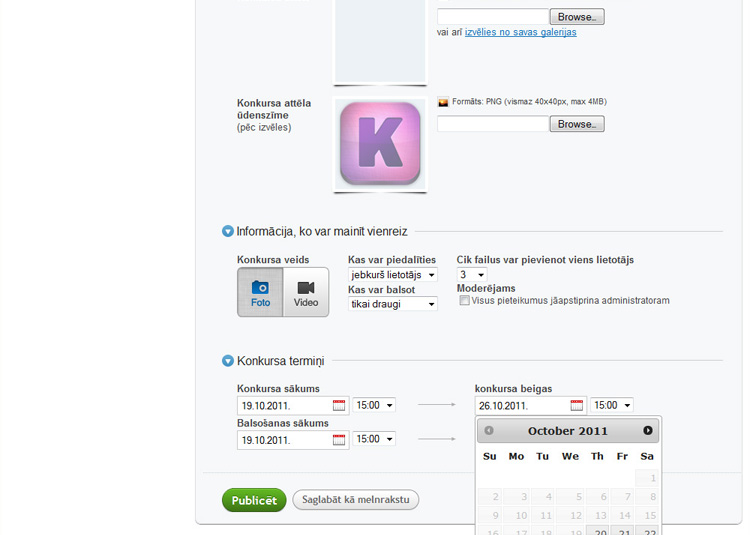 RNS
RNS is our oldest e-shop that has not required any changes for over a decade despite growing the client base each year! Even by today's standards this e-shop feels modern and easily perceived. This is how a good software should work.
ThermoKid
It's really hard to keep control over a business that makes clothes. When shops selling your products run low on supply and ask for a next lot of goods, you need to know precisely how much cloth, buttons and even thread you have, where it is located and how much more (and until when) you need to buy them. In addition to this SCM, you must also check when will your dress-makers have can schedule sewing the new models, and, ideally, how much money you will make in the upcoming months based on outlet, price lists of each client, material and work costs. We were happy to see that not a single change was needed for our first version!
Sparsl
When you need to find the right person for a specific job based on recommendations of people you trust (for example, a nanny for your child), there usually will not be many you will ask for recommendation so sharing this publicly on a social network will not be suitable. Social Parcel solves this problem by allowing you to create an issue and sharing it with only the people you select from your contact list or social network. Even if they cannot recommend anyone, they can forward this issue to others they trust thus helping you to find the right person. You can see at any time the full "tree" of people that were reached by your parcel and follow the threads of people that marked that they can help.
TrustedFor
When LinkedIn introduced endorsements, it was clear that they are too shallow to be taken seriously. At the same time recommendations were too complex and no one wanted to spend time writing them. To fill this empty space between, we were asked to create an app for LinkedIn that would allow users to give a meaningful, validated recommendation without having to spend a lot of time.
IndyGo
This was not our typical project, but after creating a stylish web site for the band, we were also happy to help with their upcoming CD. Awesome product for awesome band, containing the most amazing music.